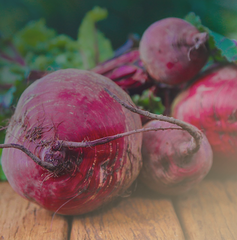 Beets are more than just one of the best fictional bands of all time. They're an incredibly versatile, nutritious and tasty addition to any diet.
Beets are a good source of folates (which help with cellular division – particularly important if you are pregnant or trying to build muscle mass) and manganese (a cofactor in many enzyme reactions).
Some people are put off by their earthy taste, but once you acquire the beet bug, you'll find yourself craving them all the time. Try these recipes to get yourself on the path to "beetering" your diet.
This recipe is one of the easiest ways to get into beets. The slight sweetness of the beets pairs well with the savoriness of the goat cheese, while the vinaigrette offsets some of the earthiness. This is perfect for beet beginners.
Borscht is a creamy, savory beet soup that is a favorite in Eastern Europe. You can put pretty much whatever you want in it, but this is a light, refreshing cold dish for the end of summer.
Red Flannel Hash is the traditional corned beef hash with an infusion of red goodness. It's a great recipe for big eaters.